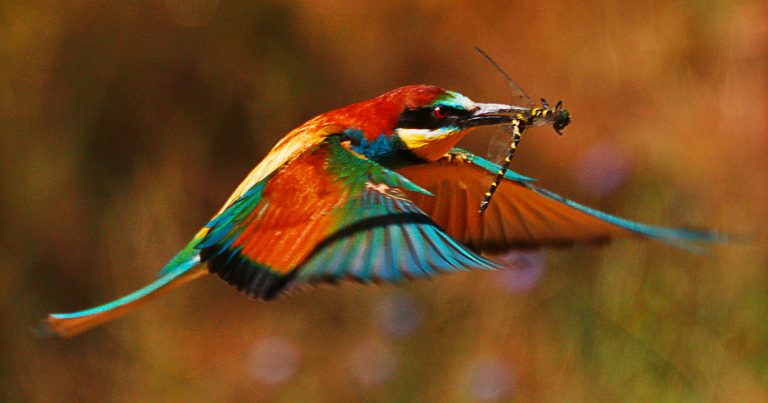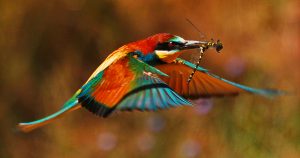 The European bee-eater (Merops apiaster) is a near passerine bird in the bee-eater family, Meropidae. It breeds in southern Europe and in parts of north Africa and western Asia. It is strongly migratory, wintering in tropical Africa.
This species occurs as a spring overshoot north of its range, with occasional breeding in northwest Europe.hese bee-eaters are gregarious—nesting colonially in sandy banks, preferably near river shores, usually at the beginning of May.
They make a relatively long tunnel, in which they lay five to eight spherical white eggs around the beginning of June. Both male and female care for the eggs, which they brood for about three weeks. They also feed and roost communally.
This bird breeds in open country in warmer climates. As the name suggests, bee-eaters predominantly eat insects, especially bees, wasps, and hornets. They catch insects in flight, in sorties from an open perch. Before eating a bee, the European bee-eater removes the sting by repeatedly hitting the insect on a hard surface. It can eat around 250 bees a day.[citation needed]
A study found that European bee-eaters "convert food to body weight more efficiently if they are fed a mixture of bees and dragonflies than if they eat only bees or only dragonflies.
At Statiano they arriving in group, we count about 40 of them! You can watch them around the pool, flying together the swallows while catching the flyes !
If you are a passionate birth- watcher, or wilde life reader, we invite you to visit Statiano!
– 2 nights and 3 days at Statiano in double rooms in June: 65,00 € per night including breakfast per          couple.
– 1 dinner with typical Tuscan food at 25,00 € per person'per dinner
Family holidays!
3 nights and 4 days  in June!
-380,00 €  total amount for an apartment with 2 double -rooms and a lounge outside!
Including a trekking along the wild Trossa stream serching for bee eater nests!
Book Now!