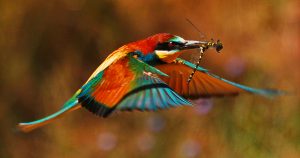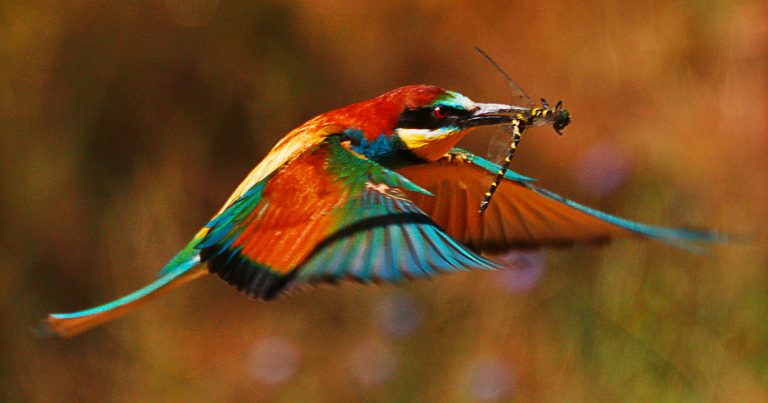 The European bee-eater (Merops apiaster) is a near passerine bird in the bee-eater family, Meropidae. It breeds in southern Europe and in parts of north Africa and western Asia. It is strongly migratory, wintering in tropical Africa.
This species occurs as a spring overshoot north of its range, with occasional breeding in northwest Europe.hese bee-eaters are gregarious—nesting colonially in sandy banks, preferably near river shores, usually at the beginning of May.
They make a relatively long tunnel, in which they lay five to eight spherical white eggs around the beginning of June. Both male and female care for the eggs, which they brood for about three weeks. They also feed and roost communally.
This bird breeds in open country in warmer climates. As the name suggests, bee-eaters predominantly eat insects, especially bees, wasps, and hornets. They catch insects in flight, in sorties from an open perch. Before eating a bee, the European bee-eater removes the sting by repeatedly hitting the insect on a hard surface. It can eat around 250 bees a day.[citation needed]
A study found that European bee-eaters "convert food to body weight more efficiently if they are fed a mixture of bees and dragonflies than if they eat only bees or only dragonflies.
At Statiano they arriving in group, we count about 40 of them! You can watch them around the pool, flying together the swallows while catching the flyes !
If you are a passionate birth- watcher, or wilde life reader, we invite you to visit Statiano!
– 2 nights and 3 days at Statiano in double rooms in June: 65,00 € per night including breakfast per          couple.
– 1 dinner with typical Tuscan food at 25,00 € per person'per dinner
Family holidays!
3 nights and 4 days  in June!
-380,00 €  total amount for an apartment with 2 double -rooms and a lounge outside!
Including a trekking along the wild Trossa stream serching for bee eater nests!
Family holidays at Statiano
Children are very welcome at our agriturismo! They are our favourites guests!
Statiano and its activities are suitable for all children of all ages!
Statiano and its activivities are at kids measure.
WE offer a range of differents solutions:
a- Two 60 sq metres apartment at the groundfloor, with a large private terrace with a stunning view on the sunset, two double bedrooms that is really good for families with small kids
b- Two 70 sq metres apartments, with two panoramics bedrooms and two baths, a lovely private garden: this is the right choice for families with teens!
All apartments have cooking facilities.
No front desk, but the owners are ever present and helpful.Whenever we make sure that each and every guests has what ne/she needs to feel comfortable..
Price is valued oriented for the location and space.
-Travelcrib, traveltray, carrier and wrap, highchair available under request.
– Apartment amenities and space.
– appropriate sight and acitivies
– pool open from May to end of September.
– Wifi free on the common area.
– BBQ free
-Daily housekeeping and breakfast delivery on request.
– friendly and attentive service.
-Organic food basket delivery every 2 days on request.
– Breakfast every morning with home made cakes, with local flours, biscuits, jams and honey, jams and honey, local fresh cheeses, toasted bread and organic juices.
-Dinner thrice a week, with genuine food.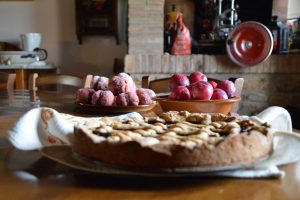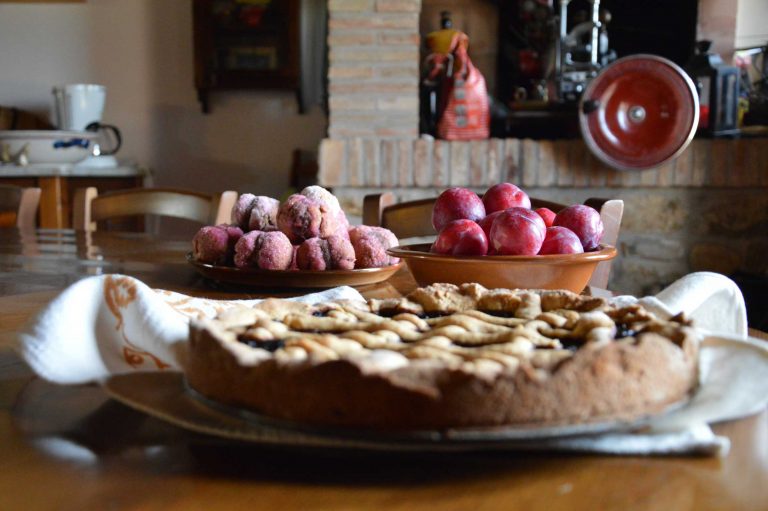 – Special menus for small kits, healty and tasty ( pasta with fresh tomatoes sauce, mozzarella and cheese salad, chickpeas cream..)
For small kids under 14 years old:
Cooking lessons with Tina, we will enjoy to do homemade pasta, pizza, bread and cantuccini.
2 lessons weekly, each of them for 10,00 € for children
12,00 € for adults
Activities taylored for kids at the local riding school centre from 10 to 16 p.m.
Children with or without their families will stay alll together and will eat at the centre, learning to play and riding lovely and quite horses.
Trekking with the mule: a wonderful way to do trekking along paths off the beaten tracks but easily accessible to all te family, where children can meet turtles, see peculiars birds and path of wilde animals. Half a day ith the whole families, in a company of a lovely and kind skilled animal that will carry your picnic!
ACTIVITIES:
– Large common garden at Your disposal.
– Pool
– Badmington
-the coast at only 30 minute's drive
at spot1 it is possible to take wind surf lessons at 10% off.
TREKKING:
For families with teens:
a- a short excursion along one of the most beautiful water flows in Tuscany which ends with a dip in the Crystalline waters.
Price is 6,00 e per pax
children under 14 old fro free
language spoken: English and French
-Visit to the geothermical museum of larderello, trekking to the Natural geothermic phenomena of the little village of Sasso Pisano, and "aperitivo" Slow food, with local farmers' artisanal products in a place that looks like popped from fables.
Price 8,00 €
children under 14 for free.
For more informations, [email protected]