Starting from every Friday until Wednesday morning.
The offer is available all year from May to June and from September to October.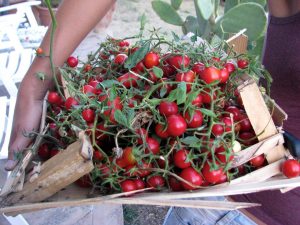 Cooking lessons in a farm house in Tuscany!!! Genuine, everyday dishes produced in Tuscan kitchens for family gathering and every day sensorial delights selecting ingredients in season preparing and cooking all to be tasted and enjoyed by all.
Spend Your days in Tuscany to enjoy Italian and Tuscan cuisine in a Real Farm!
We will learn to make: Fettuccine, gnocchi, ravioli, and "ribollita", we will taste local cheese and ham.
Moreover, there will be the opportunity to meet people coming from other part of the world and other nationality!
976 € for 5 nights for 2 people.
Our offer for 2 people includes:
5 nights in a double room € 420 for 2 people.
5 delicious breakfasts for two people with moka coffee, tea, herbal tea, yogurt, juices, cereals and only local milk, fruits, homemade jams, tasty cookies and cakes included in room price.
5 dinners at the farm at 250 € for 2 people
3 cooking lessons lasting 2h and 30 minutes each. Total cost € 260 for 3 lessons for 2 people with lunch included.
The first class will be dedicated to pasta making, the second to wine and the third to the Italian antipasto.
A tasting of local Tuscan products at the Farmers Shop "SottoVuoto" in Pomarance. 36 € for 2 people.
Visit to Viti Palace in Volterra at  10 € at entrance for on people.
A visit to the local market of Cecina (only on Tuesdays).
Details:
Friday
–arrival and welcome aperitive with Statiano wine,"bruschette" with extravergin olive oil, local "pecorino" cheese and marmelade of apple quince and grapes.
– double bedrooms will have fresh "fiori di campo" (wilde fresh flowers) in May and June, a basket with locals and organic fresh fruit, the possibility to make a delicious expresso in their bedroom.
In the common area, everyday from 5 o clock p.m., guests will find a buffet with lemon water, ginger hot infusion, water and a fresh cake or homemade biscuits.
-Dinners at 8′ clock with fresh and local food.
 Saturday
–Breakfast from 8.30 to 10.00 a.m
-at 12.00 a.m. transfer to Pomarance where we go straight – everybody on his own – "SottoVoto" shop, a delicious farmers' shop in the heart of Pomarance  to have a guided tasting to local and artizanal food.
-From 2 pm you can move to Volterra on Your own and guests can do a tour of  Volterra on their own. It is such an incredible town!
– at 4.00 pm meeting point at Piazza dei Priori, Consorzio Turistico to visit Palazzo Viti with its marvellous collection until 5.30 p.m.
– back to the agriturismo.
– 8.00 p.m dinner at the farm with the view on the sunset.
Sunday:
– breakfast from 8.30 a.m to 10.00 a.m
– 11.00 / 13.00 cooking lesson: handmade pasta:ravioli, gnocchi and Fettuccine. We will enjoy our pasta all together for lunch.
-8.00 p.m dinner at the farm
Monday
– Breakfast from 8.30 to 10 a.m
-11.00/01 a.m tasting wine, some points on how our wine  is produced, some historical story telling about Sangiovese,  how to preserve its flavour and chemical sustances, how drink it possibly..
– at 8.00 p.m dinner at the farm.
Tuesday
–breakfast from 8.00 to 9.00
– transfer to Livorno to visit his historical food market and buy some delicious food
– 1 p.m we meet at Seghieri to eat a tasty torta di Ceci, a characteristic street food.
– 5.00 pm how to prepare a quick and memorable "apericena"
-8.30 p.m Good bye apericena.
Wednesday
– breakfast from 8.00 to 10 a.m
end of the holidays at Statiano.
The offer is available all year from May to June and from September to October.