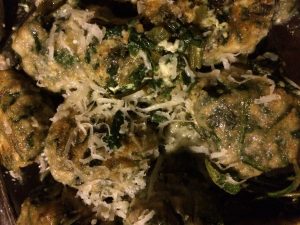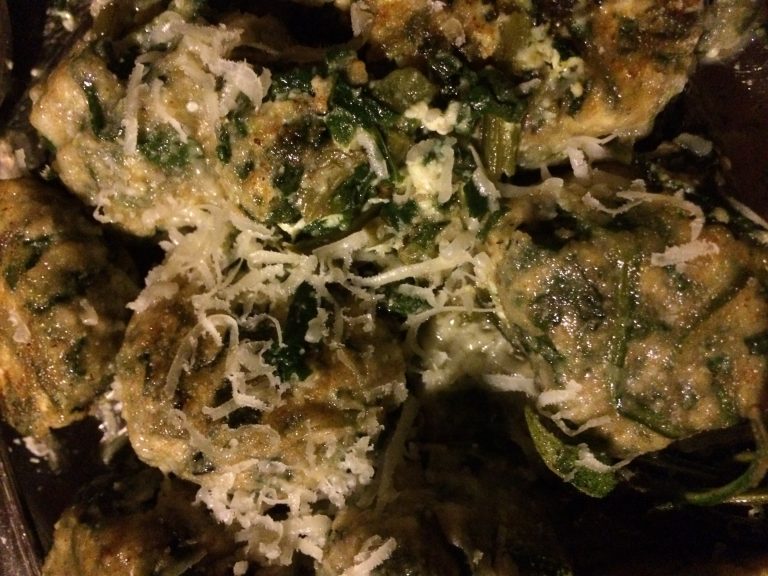 My Mum used to prepare them once a mouth, in winter time, and we were so happy when they were at our table. Very yummies and riches, expecially if you do them with local and fresh ingriedients:
the term ' Gnudi', nude ravioli, comes from the fact that this is the filling for a Tuscan raviolo that is made into a dumpling, without the pasta wraparound.
for 8 people:
1kg fresh spinach or Swiss chard combined with field greens, cooked and squeezed dry of water
400 gr of fresh ricotta cheese
3 eggs
150 gr of Pecorino cheese or Parmisan
Salt and fresh ground pepper
a good grating nutmeg
100 gr of flour
extravergin olive oil
In a food processor, or in a bowl, chop the greens and melt it with the ricotta. Add eggs and grated cheese, pepper and nutmeg. In a bowl, sift in the flour. Allow to rest overnight, or at least 3 hours.
Pour some flour on to a plate. With a teaspoon, scoop out enough of the paste to make a small wallnut sized ball and roll on the flour. Place each ball on baking paper for rest one hour.
Drop the Gnudi into a deep pot of well salted boiling water. When they rise to the top, lift them out gentlywith a slotted spoon on to a baking dish with butter, sauges leaves and/or tomatoes sauce and leave it for half an hour.Put themgenlty on to A SERVING PLATE, SPRINKLE WITH MORE CHEESE DRIZZLE OVER SOME EXTRAVERGIN OLIVE OIL AND SERVE.